Barack who? Arabs weigh in.
Senator Obama is an unknown quantity as he tours the Middle East.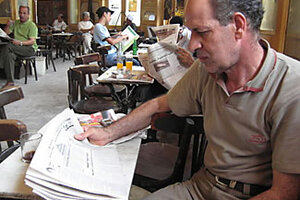 Liam stack
Several copies of Barack Obama's "The Audacity of Hope" are prominently displayed in Jarir Bookstore here. They have not moved in weeks.
Browser Najla Khaled doesn't change that. Standing before the same shelf and lifting her full-face black veil to survey her choices, she grabs novelist Jeffrey Archer's latest release and walks away.
It's not that she dislikes presidential contender Obama. "I saw him on Tyra Banks's show and I think he has great opinions," says the 17-year-old high schooler. But his policies have not roused Najla, who's only heard "some random stuff ... here and there."
Senator Obama's campaign may have launched groundswells of hope, ardor, and optimism at home and in Europe. But at the start of his closely watched trip to the Middle East, the all-but-certain Democratic nominee is little known in the Arab world, and has yet to generate widespread interest or enthusiasm.
From Baghdad to Beirut, people said in recent interviews that they are unfamiliar with his policies, except for his plan to move quickly to pull US troops out of Iraq.
---