Egypt's child protection law sparks controversy
Islamist opponents from the Muslim Brotherhood argue that the law imposes foreign values on Egyptians.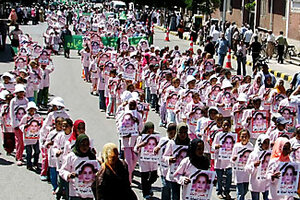 Mamdouh thabet/AP/FILE
Since June, Egypt's government and Islamist opposition parties have been trading barbs over a new law designed to protect the rights of children. Reforms instituted by the law touch on issues ranging from children's legal status to personal health issues.
The law was passed by parliament, which is dominated by President Hosni Mubarak's ruling party. But the measure has spurred a debate over the competing roles of religion, tradition, and the state in the upbringing of children. The controversy is making waves in a country where 32 percent of the population is under the age of 15, according to a 2006 government census.
The Muslim Brotherhood, a banned yet tolerated opposition group that holds 20 percent of the seats in the lower house, argues that the law violates Islamic law and imposes foreign values on Egyptians.
Saad El Katatny, the leader of the Muslim Brotherhood bloc in parliament, says his movement is not opposed to the child law as a whole, rather "just those provisions that run counter to the norms, customs, and nature of the Egyptian people."
Aspects of the law that he takes issue with include articles that make it illegal to try children as adults, permit birth certificates for the children of unwed mothers, restrict corporal punishment, raise the marriage age to 18 years, and reinforce a standing ban on female circumcision.
"When you do things like this, for example limiting the age of marriage to 18, it does not reflect the norms of our society, it reflects international norms," Mr. Katatny adds.
---