Israeli settlers in West Bank defy promise
A permanent settlement in Maskiyot could hinder a faltering peace process as Palestinian and Israeli leaders meet with US secretary of State.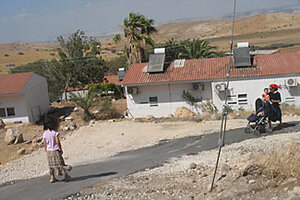 Josh Mitnick
For nearly three decades this outpost in the desert hills of the Jordan Valley functioned as a stillborn settlement, a temporary respite for soldiers and religious students, but never the residential community intended by Israel when it approved Maskiyot in the 1980s.
After Israel's Defense Ministry recently approved plans to build 20 houses, Palestinians and peace process proponents warn that the settlement is a de facto violation of Israel's promise not to establish new settlements in the West Bank – and another indication of the gloomy prospects for reaching a peace deal before President Bush leaves office.
"We've planted our stake," says Yosi Hazut, was evacuated fro the Gaza Strip by Israel in 2005 and moved here six months ago. "This is a settlement like any other community in Israel. We're not waiting for the government."
Secretary of State Condoleezza Rice was scheduled to meet with Israeli and Palestinian leaders on Wednesday in an effort to salvage the peace talks.
Under the US-sponsored "road map" peace plan, Israel is supposed to freeze settlement construction. But Israel has continued to build in existing West Bank settlements and in east Jerusalem since restarting negotiations with the Palestinians last year.
---