Fatah, Hamas rift widens amid new violence
The Palestinian factions fought Saturday in the worst internal violence since Hamas's Gaza coup.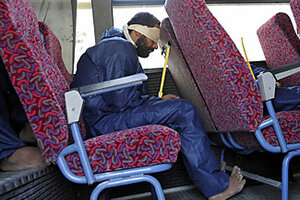 Amir Cohen/Reuters
Tel Aviv and Ashkelon, Israel
At least nine people were killed and 80 wounded in a Saturday gun battle in Gaza between Hamas and Fatah after a week of violence escalated the conflict amid the rival Palestinian factions.
Saturday's fighting started when Hamas security forces moved into a Gaza City neighborhood to arrest members of the Hilles clan who were apparently suspects in a July 25 bombing in Gaza that killed seven people.
The crackdown sparked intense fighting with the pro-Fatah Hilles and caused many members of the heavily armed clan to escape to Israel.
By Sunday afternoon, at least 30 members of the Hilles clan were returned to Gaza by Israel and arrested immediately by Hamas. Hamas spokesman Ihab Ghousin said that those arrested who did not participate in any crime would be released while the others would stand trial. He added that the Shejaia neighborhood, where the clan lives, would be under Hamas control for the next three days as it is searched for explosives and weapons.
Hamas critics say the crackdown on Shejaia was part of a broader power play by the Islamists to shore up their power in the coastal territory of 1.4 million people as popular support for Hamas is waning.
---