In Iraq, troops balance fighting and lending a hand
Counterinsurgency efforts require US soldiers to shift from fighting to peacekeeping, but many feel ill-prepared to conduct investigations and interact with Iraqis.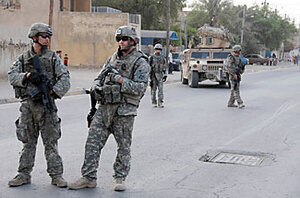 Tom A. Peter
A few months ago, Sgt. First Class Robert Rollheiser and his platoon were locked in fierce battle in Sadr City with the Mahdi Army (JAM), a Shiite militia. Today, they're surrounded by a group of locals just a few miles from the city where a woman has accused some local boys of belonging to JAM.
Upon investigation, it appears she wanted to get the attention of US soldiers to seek their help in mitigating a family dispute that arose when her son refused an unattractive bride. The alleged JAM members were, in fact, the bride's brothers and had threatened the picky groom-to-be. Having determined this, Sergeant Rollheiser tells the group, "You need to call the police. We don't handle these types of problems. I am not Dr. Phil."
When major fighting ended almost overnight in Baghdad in late May, US soldiers had to make a sharp transition from fighters to peacekeepers. Counterinsurgency efforts have always required a careful balance between these two roles, but many soldiers say none have required such quick switches as Iraq. The US Army has taken major steps to ready soldiers for an environment in which they are asked both to fight and interact with locals. But many still feel underprepared.
---