After setbacks, Sadr redirects Mahdi Army
Moqtada al-Sadr instructed his militiamen to join a new social wing of his anti-American Shiite army.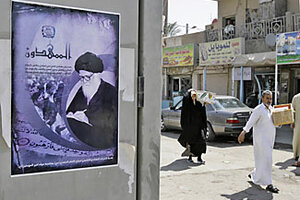 Karim Kadim/AP
Moqtada al-Sadr has taken yet another step in an attempt to transform his Mahdi Army militia from a force intent on battling US soldiers into a much broader social and political network that can still hold sway in the shifting landscape of Iraq.
During Friday prayers in Sadr City, clerics read instructions from the young anti-American leader ordering his militiamen to join a new religious and cultural wing of the movement that he is calling the Momahidoun, or "those who pave the way."
The move comes just months after Mr. Sadr's movement was dealt a serious blow in springtime battles with both American and Iraqi forces in Baghdad and Basra that ended when Sadr called off his fighters after the deaths of hundreds of his followers and innocent Iraqis.
"The Mahdi Army is in a real crisis," says Abdul Kareem al-Mohmedawi, a native of Sadr City and deputy editor of Al-Jamaher, a liberal newspaper in Baghdad. "There is a weapons shortage and a shortage of volunteers."
---