In dog-walking, Saudi virtue police see vice
In Riyadh, theories that the practice can encourage flirting revives a ban on buying and selling cats and dogs.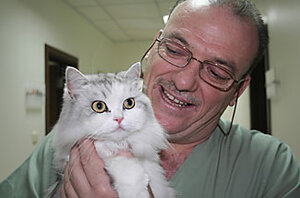 Caryle Murphy
A complaint about the "phenomenon" of dog-walking recently landed on the desk of Prince Sattam bin Abdul Aziz.
This practice was "becoming more and more acceptable and ... being taken advantage of by some young men in a way that conflicts with the rules and regulations of Islam," according to the protest from Othman al-Othman, head of Riyadh's religious police.
The young men, it seems, were being young men. They were "using cats and dogs to make passes at women and pester families," Mr. Othman told Al Hayat newspaper.
Prince Sattam, acting governor of Riyadh Province, responded by ordering city officials to begin enforcing a 1994 religious edict banning the sale of dogs and cats, because the prophet Muhammad had encouraged Muslims to refrain from trading in the animals, according to an officially circulated memo.
Although the ban does not prohibit walking your dog or owning a pet, Al Othman told Al Hayat that "if a man is caught with a pet, the pet will be immediately confiscated. And the man will be forced to sign a document pledging not to repeat the act."
For days after, the no-pet-in-public ban – consistent with the often heavy-handed efforts by the Saudi religious police to control the lives of ordinary people –was mocked in newspapers and blogs around the world.
Saudi-born veterinarian Maged Elhayek says he took a "panicky" call from a US Army vet asking if foreigners would still be allowed to take their pets out of the country.
Mr. Elhayek says that the religious edict goes beyond what the prophet Muhammad said. "First of all, he only discouraged people from selling dogs, he didn't prohibit it," said the vet. And there was no mention of cats in that advice.
---