In one town, Gazans yearn for previous Israeli presence
Mawassi residents say life was better before 2005, when they were part of an Israeli settlement enclave. Few can find work now.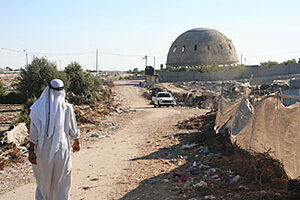 Rafael D. Frankel
Three years have passed since Israel withdrew from the Gaza Strip, and in that time the economy of this coastal territory of 1.4 million people has gone from bad to worse.
Gas and food shortages are now being compounded by cash shortages as tens of thousands of people were unable to withdraw money from banks on Monday.
Still, despite their economic hardships, most Gazans insist that they prefer life here without the Israelis.
But in Mawassi – a mixed ethnic Palestinian and Bedouin town that was completely isolated from the rest of Gaza inside a Jewish settlement enclave – it's a different story.
"I want [the Israelis] to come back," says Riyad al-Laham, an unemployed father of eight who worked in the area's Jewish settlements for nearly 20 years. "All the Mawassi people used to work in the settlements and make good money. Now there is nothing to do. Even our own agricultural land is barren."
Located in the middle of Gush Katif, the former block of Jewish settlements here, Mawassi fell within the security cordon the Israeli army threw around its citizens from 2002 to 2005, when attacks from the neighboring Palestinian town of Khan Yunis came almost daily.
---