Warmer Lebanon-Syria ties puts focus on prisoners' fate
Lebanese President Michel Suleiman's visited Damascus Wednesday, raising the prospect that perhaps hundreds of detainees in Syria will be released.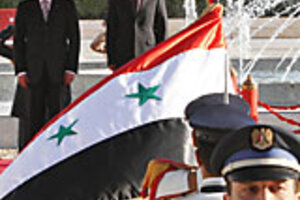 Khaled al-Hariri/Reuters
Fouad Fawal hasn't seen his son for nearly 20 years. In 1985, Toufiq was arrested in connection with the murder of a Syrian janitor and disappeared within that country's vast prison system.
But Mr. Fawal maintains that his son was merely an unwitting accomplice and should be released. He hopes that Lebanese President Michel Suleiman's Wednesday trip to Damascus will lead to Toufiq's return, as well as the freedom of many other Lebanese detainees who continue to languish in Syrian jails.
"We are begging that President Suleiman comes back from Damascus with Toufiq with him because he's an innocent man and his family is suffering," says Fawal. "He's spent nearly a quarter century in prison and that's enough for any crime."
Mr. Suleiman's long-awaited fence-mending visit to Damascus on the same day a massive bombing in Tripoli killed at least 18 soldiers and civilians will be his first since being elected president in May. He and his Syrian counterpart, Bashar al-Assad, are expected to address numerous pressing issues in a bid to improve ties between the two neighbors after three years of bitter tensions.
Among them are the establishment of formal diplomatic ties and the opening of embassies for the first time, the delineation of the two countries' joint border and the fate of dozens, possibly hundreds, of Lebanese detainees in Syria.
---