In Israel, kosher extends beyond the kitchen
A kosher 'social seal' on nearly one-third of Jerusalem restaurants conveys ethical, not just dietary, standards.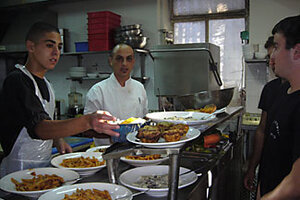 Danna Harman
First there were one or two on restaurant windows here or propped up near cash registers there. The signs beckoned: "Eat here, this establishment has a kosher 'social seal.' "
In Israel, the majority of restaurants, hotels, and banquet halls have "kosher certificates" from the chief rabbinate. Many Jews will not eat at places without one. But now, a different sort of kosher credential, one that has nothing to do with the Jewish dietary laws, is popping up across the city.
The kosher social seal is awarded to eateries that pledge to treat those preparing and serving the food in an ethical way. This means paying overtime, providing health insurance, and ensuring the equal treatment of minorities – the list goes on.
What does this have to do with Judaism?
"Everything," says Asaf Banner, the young religious Jerusalemite who directs Bemaaglei Tzedek, a nonprofit organization that started the social seal project three years ago. "The Torah is a system of life.
"It has something to say not only about mixing milk and meat – but on every subject," he says. "Religion is more than a list of laws someone wrote down thousands of years ago. It is a guide to bettering our community."
The popularity of the social seal, continues Mr. Banner, is a testament to a growing Israeli appetite for understanding and partaking in these community Jewish values. A shift, he muses, that might have to do with a collective sense of disappointment over the faltering peace process between Israel and the Palestinians.
"A lot of young people are beginning to say, 'let's invest our energies internally. Let's fix our own society first,' " says Banner. "Once we know who we are, and what society we want to be – we will stop stammering and might be better able to move forward with peace as well."
---