A summer camp for political dissenters in Israel
At Alternative Camp, draft dodgers and declared conscientious objectors hope to develop a new generation of young Israelis who refuse to fight.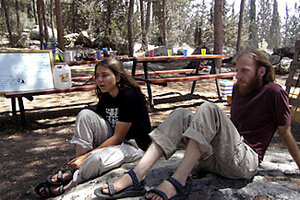 Danna Harman
Weeks before her scheduled conscription into the Israeli army, at a time when most other 18-year-olds were gearing up for mandatory service, Saar Vardi was in the forest – talking about pacifism.
One of a small group of Israeli conscientious objectors, Ms. Vardi spent her last days of summer at a unique camp – counseling others who might follow in her activist footsteps.
"A lot of us don't get why we should give up years, not to mention maybe our lives, for what seems like someone else's wars," explained Vardi, a facilitator at Alternative Camp, a program for 15- to 19-year-olds outside Neve Shalom, a cooperative Israeli-Arab village. "Here, we talk about options."
On Monday, instead of reporting for duty, Vardi exercised her option to refuse service and, as expected, was promptly marched into jail.
While the camp is not billed as a conscientious objectors' gathering, the theme hung over the forest as thick as the smoke from the environmentally friendly cookers. Most of the 30-odd counselors were draft dodgers, deserters, or declared conscientious objectors who hoped to foster a greater understanding of their desire not to fight.
For the third year in a row, close to 100 campers gathered here to take part in seminars on subjects ranging from "gender, sexuality, and alternative lifestyles," to "animal rights," and "the alternative history of the occupation." And all this, between vegan meals and field trips to deserted Arab villages.
"No. We are not mainstream," shrugged counselor Hagai Matar, a redhead with thick sideburns and a full beard, who was recently released after two years in jail for refusing to serve. "But we are as much a part of the fabric of this country as anyone else," he said. "Israel is more conflicted and complicated than it may seem."
---