Iraq's port city shows signs of an economic comeback
The amount of cargo coming into Umm Qasr has tripled since April.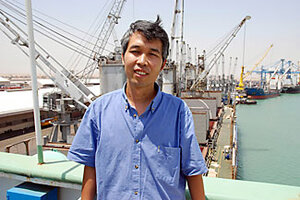 Tom A. Peter/The Christian Science Monitor
As Iraqi dockworkers unload rice from the Yichanghai, a Thai freighter, the boat's captain recalls the last time his company sent a ship to Umm Qasr, Iraq's only port city, in 2004. Boats had to wait one to two months outside the port before authorities allowed them to dock, and local militias often extorted extra duties.
"It was too much of a problem," says Captain Cao Zhanshu, explaining why his company did not send another ship until now. This time the situation looks much different. They only waited 10 days and paid no bribes. "I think it's safe to come here," he says.
The return of ships like the Yichanghai is a sign of an economic comeback in Basra Province. With violence seemingly under control at the moment, Iraq's south appears to be rising once again. Still, the steady presence of corruption and organized crime threaten to stunt the region's growth.
"There is a huge mood of optimism about," says Nigel Haywood, consul-general at the British Embassy in Basra. "We know the optimism is fragile.... It's not yet irreversible, but the progress is getting pretty close to becoming irreversible."
---