Iran, U.S. step cautiously toward dialogue
Signals from both Tehran and Washington are often misinterpreted and the subject of attack on the domestic stages in both countries.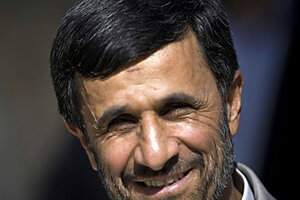 Morteza Nikoubazl/Reuters
The language from both Tehran and Washington seems as bellicose as ever. This week, an Iranian general said aggression against his country will start a "world war" and Democratic presidential hopeful Sen. Barack Obama vowed that if elected he would not allow Iran to box Israel "into a corner."
But a look behind much of the public rhetoric coming from the United States and Iran reveals that both countries, while still bitterly at odds over many issues, are taking increasingly bold steps to foster dialogue.
"America has no choice but to look to Iran for dialogue" to help solve crises in Iraq, Lebanon, the Middle East peace process, and Iran's own nuclear issue, says Sadegh Kharazi, Iran's former ambassador to Paris.
"But they want that dialogue without paying a price," says Mr. Kharazi. "Why does America [on one hand] make positive language, but on another put a lot of sanctions upon Iran? This is a double-standard [so] there isn't any trust on the Iranian side."
---