Will summer fun foil Gaza's extremism?
The United Nations ran summer camps for more than 250,000 Palestinian children in a bid to combat militancy that often takes root at a young age in Gaza.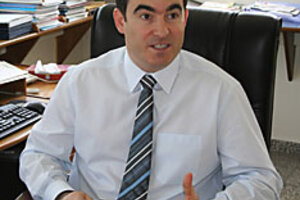 Rafael D. Fankel
AlShati Refugee Camp, Gaza
Walid Sharif just executed a near-flawless somersault on the trampoline. Then, with a wide 8-year-old grin of three missing teeth, he proclaimed this was "the best place in all of Gaza."
For the second summer in a row, Walid participated in camps run by United Nations Relief and Works Agency (UNRWA), the UN arm devoted to Palestinian refugees, that gave some 250,000 refugee children at more than 350 locations in the impoverished Gaza Strip some sense of summertime normalcy – sports, arts and crafts, relay races, swimming, and even hula-hooping.
But the camps were about more than fun and games, they were about countering the extremism that can take root here at the earliest ages, says John Ging, UNRWA's Gaza director. While Israel and the West use economic embargoes and political isolation in an effort to compel Gazans to moderate their ideology and behavior, Mr. Ging's strategy can be summed up like this: Let the children play.
The $4 million summer program that ended Aug. 24 gave "the children some outlet for their talent and also for their physical development," Ging says, "and a break from the oppressive and depressing environment which is their daily reality."
---