U.S. begins hunting Iraq's bombmakers, not just bombs
Fatalities from improvised explosive devices, the biggest killer of US troops in Iraq, declined 78 percent over the past year.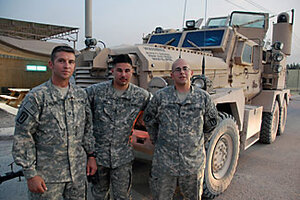 Tom A. Peter/The Christian Science Monitor
When members of the Air Force's 447th Explosive Ordnance Disposal unit first arrived here in May, they were dealing with three to four roadside bombs a week. During prior tours, the group's veterans say at least one a day was normal.
But last month, they went their first week without encountering a single roadside bomb.
For US soldiers in Iraq, this decline is perhaps the loudest herald of a quieter Iraq. It's also representative of the US military's greater strategic shift, focusing less on individual threats like improvised explosive devices (IEDs) and broadening their scope to the larger counterinsurgency mission.
"We've made a mistake focusing on IEDs as a technological threat," says Frederick Kagan, a military expert at the American Enterprise Institute. To defeat roadside bombs in Iraq, the military had to broaden their focus beyond the devices and look at them as a piece of the entire conflict. "As we've been winning the counterinsurgency, the effectiveness of IEDs has been wearing off," he says.
IEDs, the military's name for roadside bombs, have posed the biggest threat for most of the war, accounting for the death of more than half of all US servicemen killed in combat. But since the troop surge began earlier this year, which is also when the military began to place a greater emphasis on counterinsurgency tactics, US military officials say IED attacks have dropped by 70 percent.
---