For Iran, energy woes justify nuclear push
Many Iranians see the Nuclear Suppliers Group's Saturday decision that could permit nuclear trade with India as a double standard.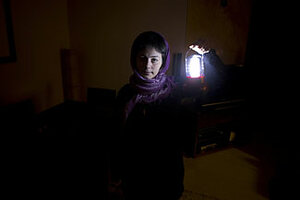 Morteza Nikoubazl/Reuters/Newscom
Tehran; and Istanbul, Turkey
On a scorching day in Tehran the power goes out, trapping a maid in a hotel elevator – again. With a routine air, the front desk clerk grabs a wrench and starts for the stairs.
From generators on sidewalks to refrigerators wrecked by power surges, Iranians are in the midst of an energy crunch that outside experts and Iranian officials say can be solved over the long term only by nuclear power. But suspicion in the West that Iran wants nuclear weapons along with power has prompted an array of United Nations and US sanctions.
For many in Iran, the decision last Saturday that promises to open the door to nuclear trade for India is a double standard. And the decision by the Nuclear Suppliers Group to end the pariah status of India – which tested a bomb in 1974, never signed the Nuclear Non-Proliferation Treaty (NPT) nor allowed outside inspection – could reinforce Tehran's refusal to stop uranium enrichment and even encourage a bid for the bomb.
"It tells the extremists … you have to do two things: 'First make a bomb. And then be friends with the Americans, and then you will be a nuclear power with the right to buy whatever you want,' " says Meir Javedanfar, coauthor of "The Nuclear Sphinx of Tehran" who is based in Israel.
---