Daughters of Iraq: front-line guards against suicide bombers
Iraqi women take on key security role as attacks by female suicide bombers rise.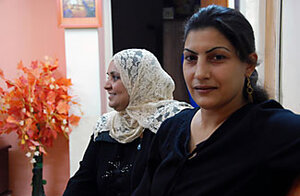 Tom A. Peter/The Christian Science Monitor
Although the overall level of violence in Iraq has decreased to a four- year low, the country has recently witnessed a sharp rise in a violent trend that alarms many Iraqis: female suicide bombings. This year the number of suicide bombings carried out by women has more than tripled to 29 attacks, say US military officials.
Al Qaeda and other insurgent groups have turned to women to exploit cultural practices that do not allow men to search women. As a result, females can pass through most checkpoints in Iraq without someone so much as looking in their handbags.
To combat this threat, Iraqis have begun recruiting women for the Daughters of Iraq, a female counterpart to the Sons of Iraq community policing program largely credited with reducing violence in Iraq. While female security guards remain a small minority, they've stopped many female insurgents. And, some say their example could help change perceptions about the role of women in Iraq.
"Right now women [suicide bombers] are more dangerous than men," says Sheikh Zaid Ahmed Al-Wan, an Awakening Council leader in Adhamiya, a Baghdad neighborhood. "You can't see anything on a woman's body, especially when she's wearing an abaya [a traditional Islamic gown] or a long dress. In the summer you can see everything on a man, you can even see if there's something in his pocket and even in the winter you can tell if he's carrying a big weapon or a bomb."
---
Follow Stories Like This
Get the Monitor stories you care about delivered to your inbox.