Can an ex-convict be Jerusalem's mayor?
Aryeh Deri, jailed for bribery in 2000, tries for a comeback in the Jerusalem mayoral contest as Israel reels from several high-profile political scandals.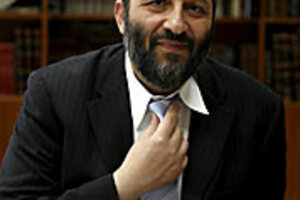 Michael Fattal/EPA
One of Israel's most charismatic and controversial political figures, who fell from grace when he was jailed in 2000 for bribery, is making a comeback that is quickly sowing controversy.
Aryeh Deri, the former leader of the ultra-Orthodox Shas Party, said Wednesday he would run for mayor of Jerusalem, a key office that was held by Israeli Prime Minister Ehud Olmert through much of the 1990s.
But one barrier stands in Mr. Deri's way. As an official who was convicted of crimes of "moral turpitude," he is banned from running for office for seven years, and that period is not up until next July. But Deri's lawyers are presenting legal opinions to the Central Elections Committee to support shortening that period. And Shimon Peres, as president, can also pardon Deri.
"I weighed it out and consulted with my rabbis and with attorneys. I have made the decision to run," Deri told Israel's Army Radio in an interview.
---