Lebanese sects aim to end clashes
Fights between Sunnis and Alawites highlight challenges facing a sectarian-reconciliation deal signed this week.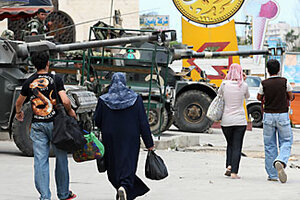 Joseph Barrak/AFP/Getty Images
The dispute began over a tiny single-room mosque. The local Alawites controlled it, but the village's Sunnis claimed it as their own. Late last month, the struggle turned violent, pitting neighbor against neighbor and leaving a religious cleric dead. Order was only restored after the forceful intervention of Lebanese troops.
The recent violence and continuing friction in this remote village beside Lebanon's northern border with Syria underline the challenges facing a widely hailed reconciliation deal reached this week by feuding political leaders that is supposed to ease sectarian tensions between rival factions in northern Lebanon.
"This reconciliation effort will go nowhere because pressure has been building in the north for months," says Walid Abbas, a resident of Sheikhlar.
The agreement, signed Monday by top leaders in the north Lebanon city of Tripoli, is being treated as an opportunity to end months of sporadic clashes between local Alawite and Sunni groups in the area, which has left more than 20 people dead and dozens wounded. But political and sectarian divisions remain deep here, stirred further by allegations of meddling between regional rivals Syria and Saudi Arabia.
"Despite this deal, the differences are still there, and they are big differences. There is no guarantee that it will work as it depends on the will of the sponsors of the local Lebanese groups – Syria and Saudi Arabia," says Sarkis Naoum, a columnist for Lebanon's An Nahar newspaper.
---