In Iran, Barbie seen as cultural invader
A veiled Muslim doll launched in 2002, the Iranian Sara, has failed to counter Barbie's popularity in Tehran.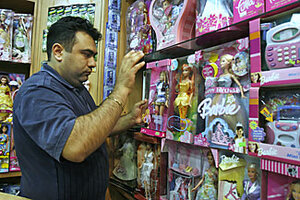 Vahid Salemi/AP/FILE
According to Iran's judiciary, the most dangerous items in a Tehran toy shop are not the lifelike pistols and sub-machine guns in the display case. The authorities have instead singled out the hot-pink boxes showcasing Barbie dolls as the real portents of a Western "cultural invasion."
Illegally imported Barbie dolls are "destructive culturally and a social danger," Iranian prosecutor Ghorban Ali Dori Najafabadi warned in a letter last April. Barbie, Batman, Spiderman, and Harry Potter toys, he wrote, are a "danger that needs to be stopped." He added: "Undoubtedly, the personality and identity of the new generation and our children, as a result of unrestricted importation of toys, has been put at risk and caused irreparable damage."
The curvaceous and often scantily clad Barbie dolls with peroxide-blond hair and a suggestion of unbridled Western fun are seen here as a direct challenge to the conservative and religious sensibilities officials hope to encourage. But a decade-long, anti-Barbie campaign waged by hard-liners has met with little success.
Toy sellers have yet to hear about new rules limiting the sale of Barbie, once famously labeled a "Trojan Horse with many cultural invading soldiers inside it."
---