As peace talks sputter, Israelis and Palestinians eye Plan B
Forming a single binational state is among the alternatives being raised to the two-state solution.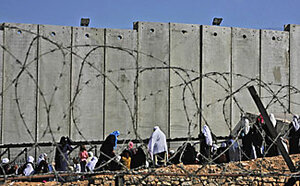 Tara Todras-Whitehill/AP
Over the past two decades of Israeli-Palestinian negotiations, deadlines for peace agreements have come and gone with precious few treaties.
Now, amid low expectations for an agreement before the expiration of the Bush administration's target for an accord by the end of 2008, voices are growing on both sides advocating abandoning talks on Palestinian statehood if they miss the mark yet again.
"We certainly need to think outside the box," says Hanan Ashrawi, a Palestinian legislator and longtime supporter of peace talks. "The business-as-usual approach hasn't worked."
Advocating a single binational state of Jews and Arabs is the alternative strategy most often mentioned as gaining cachet among Palestinians, though even backers of that goal concede that it is more of an ideal than a realistic goal. Other alternatives that some Palestinians are mulling include dismantling the Palestinian government, an international trusteeship, and returning to popular uprising to achieve an independent state.
Adds Ms. Ashrawi, "There are many ideas, but there is no consensus. The consensus is that we are reaching the end of our rope. The two-state solution is receding, and we are in crisis."
Nearly a year ago at a summit in Annapolis, Md., President Bush called for a push to reach a deal by the end of his term. If that deadline passes, it is unclear if the fledgling successor to the Bush administration will dive back into talks when chances for success seem slim. Palestinian and Israeli leaders are both weak right now, making it difficult for either side to push for an agreement.
---