Can Livni clean up Israeli politics?
Foreign Minister Tzipi Livni won the Kadima Party primary to replace Ehud Olmert who has been beset by corruption charges.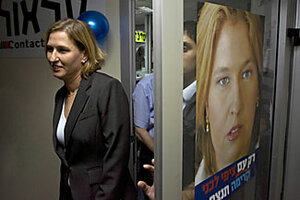 Sebastian Scheiner/AP
Foreign Minister Tzipi Livni set her sights Thursday on taking the office of prime minister and got started working on building a new coalition government.
But an official count released after Wednesday's Kadima Party primary showed her besting her closest competitor, Shaul Mofaz, by just one percentage point, leaving her with less decisive mandate to lead Israel's ruling party. Nonetheless, Ms. Livni strode into the political limelight as if that made no difference.
Livni said her party's choice showed that today "there is a different kind of politics. For a very long time I was told there was no such thing, and today Kadima proved that there is."
The language of political change – which has drawn comparisons to Democratic presidential candidate Barack Obama's campaign – has permeated Livni's lingo as she has moves from behind-the-scenes power broker to front-page policymaker. And unlike most of Israel's politicos across the ideological spectrum, she is one of the few with a squeaky-clean reputation.
Livni has forged strong working relationships with her Palestinian counterparts in the renewed peace process, which began in Annapolis, Md., last year. On the domestic front, she has created much excitement because she could be only the second woman in Israel's history to become prime minister.
---
Follow Stories Like This
Get the Monitor stories you care about delivered to your inbox.