Ramadan trend: Iftar emerges as high-profile social event
In the Muslim world, breaking the daily fast at sunset was once a family event. Now it's upscale and political.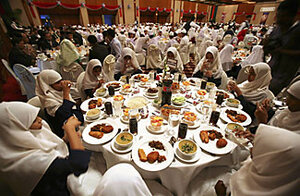 Pavel Rahman/AP
The Ciragan Sarayi, an opulent 19th-century Ottoman palace turned into a luxury hotel, usually hosts high-society weddings. This month, however, it is booked solid by corporate clients celebrating iftar, the traditional meal after sundown that breaks the daily fast during the holy month of Ramadan.
On a recent night, some 700 guests of a discount supermarket chain were seated at candlelit tables as a five-piece band played traditional Turkish music and a swarm of waiters in crimson-colored tuxedo jackets brought them plates of roast lamb.
"For a company to have iftar here is a kind of statement," says Ulku Karadaglilar, an executive at the Ciragan. "It's like 'Where did you have your wedding or your gala event?' They only have one chance to do it all year, so they want the best."
Increasingly, iftar in Turkey – and in other parts of the Muslim world – has moved from being a family affair to an important economic and social statement. Businesses and other organizations now host lavish iftar dinners, using them as a kind of public relations tool and as a way, some critics charge, of showing off. Observers in Turkey say the rise of the corporate iftar dinner is another example of the rising visibility of religion in public life and of an increasingly bourgeois Islamic elite.
"The religiously conservative and newly urbanized middle classes and upper middle classes have given increased importance to the iftar dinner, and have influenced the established middle classes," says Nilufer Narli, a sociologist at Istanbul's Bahcesehir University.
"Now these dinners are becoming more and more public and chic. It's becoming something that's kind of fashionable – almost every company or organization now gives one. It's the new thing."
New enough, apparently, that there are few critics. Ramadan marks the month when the Koran was revealed to the prophet Muhammad. During daylight hours, it's a month of fasting (no food or water), purification, and reflection. But after sunset the fast is broken – and that's becoming a major focus of the holiday.
---