What drives Ahmadinejad's combative rhetoric
The hard-line views expressed by the Iranian president at the UN General Assembly on Tuesday are informed by a Messianic religious belief.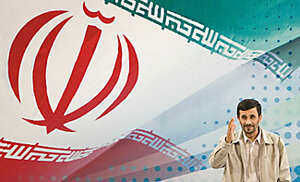 Raheb Homavandi/Reuters
Tehran, Iran; and ISTANBUL, TURKEY
In the midst of the combative rhetoric from Iranian President Mahmoud Ahmadinejad Tuesday at the United Nations, where he referred to Israel as a "cesspool" and the US as a "bullying power," he also renewed his call for the quick return of the Shiite Messiah to vanquish oppressors and bring perfection to the world.
For Shiite Muslims, the eventual return of the Imam Mahdi is an article of faith – equivalent to the second coming of Christ for many Christians. While few Iranian politicians so publicly embrace this Messianic worldview, Mr. Ahmadinejad and his aides have stated more and more frequently that their administration is governed by the Mahdi.
Such beliefs guide Ahmadinejad in both domestic and international affairs and help explain his stance on Iran's nuclear program, his unwillingness to succumb to US demands to curb enrichment, and why his government continues to back anti-Israeli and anti-American militants in the region.
President Bush, who spoke hours earlier at the Tuesday gathering of world leaders in New York, lashed out out at Iran for precisely this stance and called for additional UN sanctions against Iran over its nuclear program.
Critics in Iran – many of them clerics – charge that Ahmadinejad's conviction that the "end of times" is near has brought Iran dangerously close to war with the US and Israel.
---