Beatlemania grips Israel, four decades late
In 1964, Israeli officials shunned the Beatles, embarrassing the nation. When Sir Paul McCartney takes a Tel Aviv stage Thursday, he'll relieve Israel of 44 years of cultural baggage.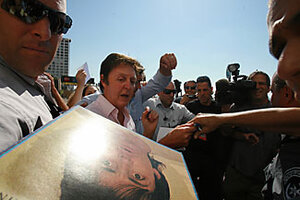 Uriel Sinai/Getty Images
Clutching a Paul McCartney album outside the Dan Hotel, Daniel Ayaloff peers through a giant window to glimpse visiting rock royalty.
"I was hoping to get a signature, but it would be enough to see him close up," he says, after lifting up a sleeve to reveal a Beatles tattoo. "This is a dream."
As if operating on a four-decade delay, Israel has been seized with Beatlemania, which will culminate Thursday when Sir Paul plays Tel Aviv's Ha Yarkon Park.
The city's other music clubs will close so as not to compete, traffic jams are expected, and websites have reported every detail of Sir Paul's hotel accommodations, down to where his hummus was bought. The Israeli foreign ministry has hailed the concert a diplomatic coup d'état for a nation that has faced cultural boycotts for its conflict with the Palestinians.
"This is a really big deal. I can't think of a comparable cultural event in Israel," says David Horovitz, the editor of the Jerusalem Post, who says Sir Paul culminates a gradual lifting of cultural isolation for Israelis.
During the years of the recent Palestinian uprising, no major musician came to Israel citing security concerns. The gradual return of top acts such as Sting and Roger Waters reassures Israelis they are a part of the global community.
---