The Islamization of East Jerusalem
In Arab East Jerusalem, Islamist groups are gaining more of a foothold through charity, such as free iftar meals during Ramadan, opening schools, and offering services.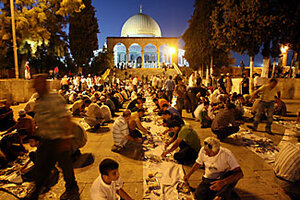 Ahmad Gharabli/AFP/Newscom
Neat rows of white lay across the courtyard's stone floors like carpeting for an honor guard ready to receive a president or king.
Upon closer look, these lines are rolls of plastic tablecloth, and in minutes, workers will place hundreds of hot meals along the ground that will, when Yusuf Hamaze gives the signal, be paired with hungry people breaking the day's Ramadan fast.
"If you have kids, share yours with them!" Mr. Hamaze yells as scores of women rush into place to make sure they get meals of lamb and rice, pita, yogurt, and sweet dates.
"I eat here every day on Ramadan, because with the checkpoints, it would be impossible to get home anyway," says Imm Iyad, a woman who lives in Bethlehem, beyond the security barriers around Jerusalem, but spends her days in the Old City market, selling couscous to support her family. "I'm here because this is the only place I know where they do this," the mother shrugs. "All of the people who come here to eat are in need."
This phenomenon of serving free iftar, the meal that breaks the Ramadan fast, to the economically strapped – as well as those unable to get home to break the fast with family – is relatively new here. It comes at the munificence of several Islamic groups, but most notably, it's a project of Sheikh Raed Salah, the head of the Islamic Movement of the North, based in Umm el-Fahm, Israel.
---