Syrian bombing: A jihadi attack?
The weekend bombing that killed at least 17 people was the worst of its kind since Syria's battle with the Muslim Brotherhood in the 1970s and 80s.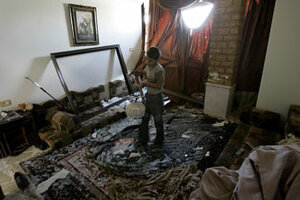 Hussein Malla/AP
As the Syrian authorities begin investigating a bomb attack that killed 17 people in Damascus Saturday, initial suspicion points to Islamist militants, either home-grown or foreign.
A car bomb, packed with an estimated 440 pounds of explosives, blew up close to a building reportedly housing the Palestine Branch of Syrian military intelligence. It was the worst of its kind since the violent confrontation between the Syrian regime and Islamist militants of the Muslim Brotherhood in the late 1970s and early 80s.
There was no claim of responsibility, and in Syria, one of the most opaque countries in the Middle East, there are plenty of potential perpetrators.
"As usual in the Middle East, there are three or four credible culprits and this is what is so frustrating. The region is chronically and increasingly violent," says Rami Khouri, director of the Issam Fares Center for Lebanon, a think tank. "Who knows who did it, but in a way it's surprising that no one has tried to do this stuff before because so many people are angry with Syria."
---