Innkeeper's log chronicles ebb and flow of Iraq war
Baghdad's Johara Hotel, which was once a meeting place for foreign journalists and aid workers, is now filled to capacity with Iraqis who still can't go home.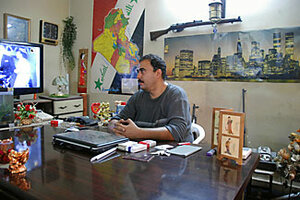 Tom A. Peter/The Christian Science Monitor
The Johara Hotel was a backpacker's delight. Rooms were just $12 at the tiny, 10-room inn that was part youth hostel and part rooming house. European, Asian, and American tourists stayed there, even as embargoes tightened on Iraq ahead of the invasion.
When war came, the Johara was the unofficial residence for freelance reporters, aid workers, and activists. But eventually they checked out – or left Iraq altogether – as Baghdad grew more dangerous.
Osama Johara has been forced to close his hotel twice during the war. Today, however, he has a full roster of guests. All of them are Iraqis, however, who for one reason or another have been driven from their homes and are still unable to return.
In many ways, Mr. Johara's hotel registry tells the story of the war. When the insurgency terrorized the city, guests vanished and the Johara closed. Now that car bombings and kidnappings are scarcer, he faces one of Iraq's biggest unresolved issues: What to do with its refugees from the war.
Located in the heart of downtown Baghdad, just a short walk from Firdos Square – home to the Saddam Hussein statue that US Marines toppled in 2003 – the inn has become a high-end refugee camp.
In early 2007 guests began arriving regularly again after Johara shut his doors in mid-2005. With virtually all foreigners staying in major hotels with large security budgets or private compounds, only some of Iraq's 2.7 million internally displaced people were willing to stay in Johara's inn in the city's Karada district.
---