In Israel, a first attempt at high school integration
Fourteen students in Israel are taking part in an educational experiment that aims to teach Jewish and Arab high-schoolers together for the first time.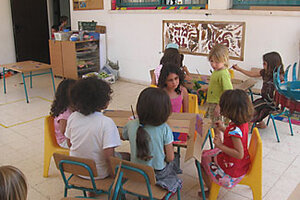 Brenda Gazzar
Yazan Khalaf has no shortage of big dreams. Aspiring to be a pilot, the young Arab-Israeli entering the 10th grade is also trying to "change the whole world."
Yazan might not start any kind of global revolution, but he is taking part in an educational experiment that could profoundly affect Israel.
He's among 14 students who started this year in Israel's first bilingual Jewish-Arab high school. It's a radical development for a country where most schools are segregated and one that its founders hope will spark a national rethink about education. At a minimum, putting Jews and Arabs together in bilingual classrooms can foster greater understanding between both sides of the Israeli-Palestinian conflict. It might be a model of the world they may live in someday.
"It has to succeed," says Lior Aviman, principal for the high school started by the Hand in Hand Center for Jewish-Arab Education. "There are more than a few cynics and skeptics and we must prove that this is possible. For me, this is a big challenge … to show that Jews and Arabs can really study and live together."
Indeed, the school faces plenty of obstacles.
First, it's not officially approved by the Ministry of Education. A ministry official said the school did not submit all of its paperwork on time for this school year. Without a license, the school will miss out on government funding and it will become more difficult for students to take matriculation exams, which help determine university admission.
---