Financial crisis threatens aid for world's poorest
President Bush's $48 billion Emergency Plan for AIDS Relief could see cutbacks.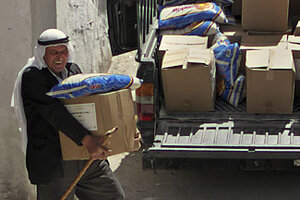 Mohammed Ballas/AP
As concerns of a worldwide financial meltdown spurred wild gyrations in financial markets the past weeks, developing nations have been spared worrying about home foreclosures or imploding retirement accounts.
But the crisis is likely to be accompanied by cuts in foreign aid that will trigger jumps in poverty, unemployment, and school dropout rates, humanitarian workers and economic analysts say.
Already in the Palestinian territories there is concern that donor money that finances 50 percent of the government budget, as well as development projects, may be in danger.
"Donors might not be able to live up to their commitments over the next year," says Hanna Sinora, a copresident of the Israel Palestinian Center for Research and Information. "We are seeing the crisis spread … and for us it could be worse, because our only resource is what we get in international aid. Everywhere people are dependent on international aid, they will feel the same pinch."
The Palestinian Authority (PA) – one of the highest recipients of aid per capita in the world – is slated to get $1.3 billion in budgetary aid in 2009 and $700 million in aid for development projects.
At a late September meeting in New York, major PA donors Europe, Japan, and the US didn't indicate that any cutbacks would be coming, says Cairo Arafat, a Palestinian government official who oversees donor aid. But a final confirmation of foreign commitments isn't expected until the end of this year.
---