US-Iraqi security pact still unsettled
Amid growing opposition, Iraqi Prime Minister Nouri al-Maliki called on Sunday for more time to negotiate a plan that could begin US troop withdrawals in June 2009.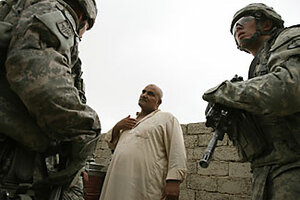 Goran Tomasevic/Reuters
Opposition is growing here to a draft US-Iraq security pact that would shape the future of America's military role in Iraq.
After months of negotiations and an end-of-year deadline looming, the ruling Shiite coalition of Prime Minister Nouri al-Maliki said Sunday that some points "need more time, more discussion, more dialogue, and amendments to some articles."
As Iraqi and US leaders try to sell the pact to lawmakers in Baghdad and Washington, the deal exposes a potent mix of political and military risks. Upcoming US elections and a nationwide Iraq vote in January further complicate matters.
"We're going through a smoke-and-mirrors process," says Toby Dodge, an Iraq analyst at Queen Mary, University of London. "Maliki is positioning himself for the most nationalistic result [but he also] knows how much he needs the Americans."
Iraqi politicians have criticized the pact for giving away Iraqi sovereignty to foreign occupiers; thousands of Iraqis demonstrated against the deal Saturday, heeding the call to protest by the anti-American cleric Moqtada al-Sadr.
---