US referees Iraq's troubled Kurdish-Arab fault line
At a flash point for violence, an Army general plays diplomat.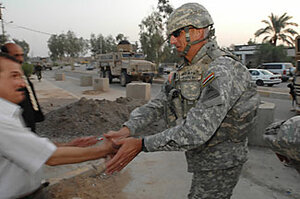 Scott Peterson/Getty Images
Their body language spoke volumes. The Kurdish mayor took another call on his mobile phone, the Shiite provincial governor leafed absentmindedly through a newspaper. They would rather not be seeing each other at all.
But Khanaqin was the center of a recent face-off between Kurdish and Iraqi Army forces that threatened a much wider conflict, along a 300-mile fault line that divides the Kurdish lands of northern Iraq from the rest of the country.
And US Army Maj. Gen. Mark Hertling brought these officials together last week, to make peace, deepen ties between this Kurdish enclave and the state, and to temper chances of any future clash with diplomacy.
General Hertling broke the ice between the two with a joke about his last visit, and the thankless task of peacemaking between Kurds and Arabs.
"Everyone said I did bad things when I was here," says the commander of US-led forces in northern Iraq, provoking laughter. "All of the reporters in Baghdad were calling me a lover of the Kurds, and all the newspapers in the Kurdish region were calling me an Arab chauvinist. So for a while I didn't know which way I should go."
Few issues will affect Iraq's future more than the final relationship between the Kurds – whose autonomous Kurdistan Regional Government (KRG) in northern Iraq has its own president, ministers, militia, and flag – and the Shiite-run central government in Baghdad.
---