Israel's Livni takes a risk with early elections
Prime Minister-designate Tzipi Livni called on Sunday for parliamentary elections instead of more negotiations with right-wing parties to form a new government.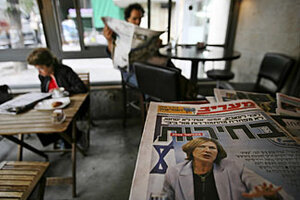 Dan Balilty/AP
More than a month after being elected head of the leading Kadima Party, Tzipi Livni is taking what some here say is a brave and bold stand and others say is a high-stakes gambit.
Rather than continue to try to cobble together a multiparty coalition, she announced Sunday that she would call for early elections, putting the peace process on hold and moving up a national vote in Israel by more than a year, most likely to February.
While some would declare failure in Ms. Livni's decision to give up on hammering out a new coalition government, Livni's supporters say that the move is an exercise of her self-confidence. They say she's refusing to kowtow to special interests and can beat the right-wing candidate who will be her nemesis in upcoming elections: Benjamin Netanyahu.
Speculation began growing last week that Prime Minister-designate Livni would call off coalition talks when the political party Shas said it would not join her government
"I will not give in to blackmail," Livni told one of Israel's largest newspapers, Maariv.
Shas, an ultra-Orthodox party representing Jews of Middle Eastern descent, tried to get Livni to shift away from the pro-peace agenda that she's sought so far and to agree to allocate additional funds to Shas supporters.
The two main breaking points in the coalition talks were Shas' insistence on a raise in government subsidies to large families and its demands for a guarantee from Livni that she would not agree to sharing control of Jerusalem with the Palestinians.
---