While Baghdad improves, a family's hopes still arrested by war
The Methboubs, a family the Monitor has followed since 2002, have been devastated by the imprisonment of one son who says he's being held on false charges.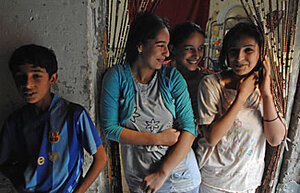 Scott Peterson/Getty Images
This was supposed to be the year that their hopes soared beyond the war's violence and uncertainty.
Karima Selman Methboub and her family moved into a larger apartment in a safer neighborhood back in January and the oldest daughter, Fatima, was married in a noisy festival.
But optimism has turned to despair for this widow and her eight children whose saga the Monitor has followed since late 2002, before the fall of Saddam Hussein.
One son was recently jailed after being swept up in a joint US-Iraqi raid on a coffee shop, and Mrs. Methboub is coping with an illness that led to one costly operation and requires another.
While security has improved in Iraq and the killings are down across the board, the horror of this conflict still shapes the daily lives for many ordinary families like the Methboubs.
On a recent day in their Baghdad home, reminders of his tearful, pleading phone calls elicited wails from his mother and tears from his ashen-faced sisters. Methboub is all too aware what can go on inside Iraqi prisons – torture, rampant abuse, and worse.
The raid
The oldest Methboub son has been imprisoned now for more than 90 days. On a cellphone smuggled in by another prisoner, he told them he had been abused and forced to make a false confession on murder and kidnapping charges.
"There is no accusation against him. They just took him from the street," says Methboub, who does not doubt her son's innocence. "If [he] is not released, I will die," she says. "If my son is still with them, he will die."
Methboub says her son, whom the Monitor is not naming due to concerns for his safety, has never been in trouble or involved in political or sectarian issues in the past.
---