Secretary Rice fights peace-process inertia
Sunday's meeting in Egypt was probably the Bush administration's last effort to get a Israeli-Palestinian peace deal.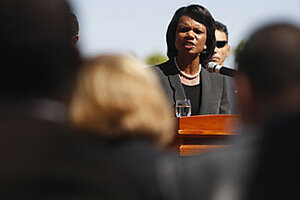 Amr Dalsh/Reuters
Inertia, history shows, can be a dangerous thing in the Middle East. It leaves room for radicals and rockets to reset the agenda.
That's why US Secretary of State Condoleezza Rice – and members of The Quartet – were in Egypt Sunday: To keep the peace train running, or at least to keep its engine warm.
"I believe that the Annapolis process is now the international community's answer and the parties' answer to how we finally end the conflict between the Palestinians and the Israelis," Rice told reporters afterward.
Ms. Rice and other Middle East negotiators met in the Red Sea resort town of Sharm el-Sheikh, Egypt – site of many previous peace talks – to preserve the progress that has been made since November 2007, when the Bush administration sponsored a relaunch of the Israeli-Palestinian talks in Annapolis, Md.
The previously scheduled meeting was attended by members of the Quartet – the United States, European Union, United Nations, and Russia – as well as Israeli Foreign Minister Tzipi Livni and Palestinian President Mahmoud Abbas.
---