Iraqi town defies Al Qaeda
Despite attack, Dulaim vows to bar Al Qaeda in Iraq, which it ousted from the town last year.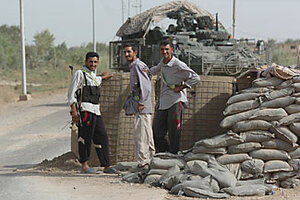 Scott Peterson/Getty Images
Dulaim is an Iraqi village transformed. Where masked gunmen from Al Qaeda in Iraq once imposed their will with killings and even stole irrigation pumps, today numerous Iraqi Army, police, and local Sunni militia checkpoints attest to new levels of security.
The change has been dramatic. It is the result of this farming hamlet deciding last January to change sides, reluctantly turning away from Al Qaeda in Iraq (AQI) and toward US and Iraqi forces.
But despite recently paying a high price for that shift, this village is determined not to turn back.
AQI struck in late September, killing 22 in the most lethal attack in a year in troubled eastern Diyala Province.
Instead of fear or failure, however, the unexpected response has been a recommitment to fight.
Among the dead was Sheikh Thamir Hassan Ali, the man who last year was forced by AQI to flee this village. He was then brought back in January by US Army helicopter in a predawn operation that the Monitor joined.
Sheikh Thamir's death highlights the challenges that persist across Iraq in trying to snuff out AQI – and in maintaining the morale of the Sons of Iraq (SOI), also known as Awakening guards. The US-supported Sunni militias have fought AQI, but face continued violence and an uncertain future as the government, this week, takes over paying their salaries.
---