How a murder investigation could snarl Mideast peace
Syria is the prime suspect in former Lebanese Prime Minister Rafik Hariri's assassination. But many say an international tribunal could cause it to turn away from engaging with the West and Israel.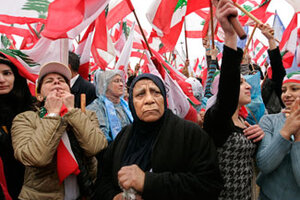 Tara Todras-Whitehill/AP
While his assassination sparked a political awakening in this country, the eventual findings into Rafik Hariri's murder investigation have the potential to undo progress on several fronts throughout the Middle East.
Syria stands at the nexus of many of the interconnected disputes throughout the region and in recent months has shown new willingness to talk with the West and engage in indirect peace talks with Israel.
But it is also the chief suspect in the death of Mr. Hariri, a powerful former Lebanese prime minister whose murder triggered an international outcry that forced Damascus to end its political control over its tiny neighbor.
Now suspicions are arising that a deal being is being concocted in which Syrian leaders could be spared prosecution in exchange for progress on peace with Israel, loosening its close ties to Iran, and an end to meddling in the affairs of neighboring Lebanon and Iraq.
---