Does Hebron clash signal new round of settler revolts?
Last week's violence in the West Bank reveals just how far ultranationalist Jewish settlers have gone beyond the control of the Israeli government and army.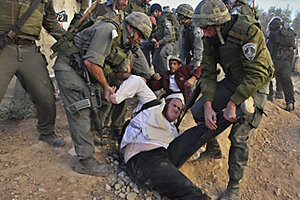 Nasser Shiyoukhi/AP
The violence here last week that started with the Israeli army evacuating ultranationalist settlers from a disputed house was captured on film and broadcast around the world. One thing it made clear for many was the extent to which extreme right-wing Jewish settlers have gone beyond the control of the Israeli government and army.
There are differing story lines that describe exactly what happened, but what isn't in dispute, because it was recorded on video, is this:
Soon after the army and police began dragging settlers and their supporters out of the house – alternatively called the "House of Contention" and the "House of Peace" – young Jewish men from the adjacent settlement of Kiryat Arba came pouring into the area. Along the way, they targeted Arabs living nearby.
Husni Matariyeh, a Palestinian quarryman who lives between the two places, was shot by one of the masked settlers. His father was shot, too.
The younger Mr. Matariyeh, just home from the hospital, says settlers ordered him and other family members, who were outside watching, to go inside their homes.
"I told them, 'Get out. This is my house.' They tried to make us prisoners in our own homes," explains Matariyeh, sitting with family members on his porch that sits in clear view of the disputed settler building.
"They always threw stones. But they never shot at me like this," he says. "The settlers want to force us out, because we're between Kiryat Arba and that house, and if they can get us out, they can have this whole strategic piece of land."
David Wilder, spokesman of the settler community, says that people here are angry because Defense Minister Ehud Barak and the Israeli army led them to believe there would be a compromise over the house before any forcible evacuation.
---