'Mercy' ad campaign urges Saudis to treat foreign workforce humanely
TV and newspaper ads created by a Saudi firm depict abuse of Asian maids in an effort to stem the widespread practice.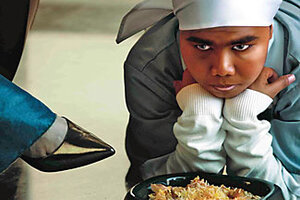 Fullstop
The one-minute video airing on Saudi-owned satellite channels shows an Arab businessman screaming at his maid, pleading poverty when a domestic server asks to be paid, and denying an employee time off to visit his daughter in the hospital.
The clip closes with the businessman at prayer, pleading God for compassion, before fading to a line that reads: "He who is not merciful himself, will not be afforded mercy [by Allah]."
The video is part of the "Mercy" campaign, a privately funded public service effort aimed at reminding Gulf Arabs that their religion requires them to treat employees, particularly their omnipresent maids and drivers, in a humane way.
The "Mercy" campaign also includes brutally candid ads in Saudi newspapers, including one that depicts a maid peeking out from a doghouse with a chain around her neck. "Don't Strip Me of My Humanity!" the title reads.
"We want to raise public interest, to make people talk ... and remind people what Islam is saying," says Kaswara al-Khatib, managing director of FullStop, the Jeddah-based advertising firm producing the public service ads, or PSAs.
Mr. Khatib says the campaign is part of his company's social responsibility. "I look at what is going on around us and try to do something about it," he says.
The way some people treat their household help is "not good enough," he says, noting that 13-hour workdays are common and that living conditions are sometimes poor.
"We think it's normal, but maybe we need to check, to go the extra mile," he says. "We need to treat them as equals."
---