The far-right rises in Israeli politics
The success of Moshe Feiglin in this week's Likud primaries heralds a stronger fundamentalist tilt within the already conservative party.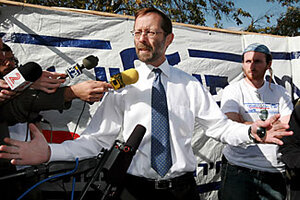 jim hollander/epa
Though opposition leader Benjamin Netanyahu has opened up a lead in the race for Israel's premiership, his campaign hit a snag Tuesday after members of his Likud party backed a parliamentary candidate linked with settler radicals.
Moshe Feiglin, who encouraged soldiers to refuse orders to evacuate Gaza in 2005 and advocates annexing the West Bank, was repeatedly denounced by Likud elders as an extremist. The fear is that Mr. Feiglin's prominence will prompt a shift among centrist voters toward Foreign Minister Tzippi Livni's Kadima Party.
"[Feiglin] is viewed as too far to the right and almost toxic.... There's a certain name brand that's associated with him that's very negative," says Mitchell Barak, who runs the Israeli polling company Keevoon. "Netanyahu went all out to fight him. It's a first chink in the armor."
Within five years, his movement, Manhigut Yehudit (Hebrew for Jewish leadership) has moved from the party margins to winning Feiglin 20th place on the Likud slate, virtually clinching a spot in the next parliament.
Feiglin's success puts him in position to claim the role as standard-bearer for the party's ideological wing, which forced former Prime Minister Ariel Sharon to abandon the party after he withdrew Jewish settlers from the Gaza Strip.
---