Maliki's tenure on ice as rift with Kurds widens
The Iraqi premier is increasingly at risk as cracks in his Shiite-Kurdish coalition grow in the waning days of the Bush administration, his other main ally.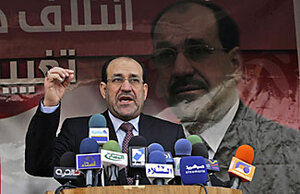 Ahmed Alhussainey/AP
Baghdad and Sulaymaniyah, Iraq
Prime Minister Nouri al-Maliki's coalition of support is fraying. The Kurds, his chief Iraqi ally, are increasingly at odds with the Shiite premier over issues of power, oil, the military, and Kirkuk. Mr. Maliki's other main sponsor – the Bush administration – will also soon disappear.
While the growing Kurdish-Shiite rift may be the biggest threat yet to Maliki's tenure, what may ensure his survival are fears of the political battle that would follow his ouster and wreck many of the gains in Iraq's young democracy.
"In the absence of a good viable alternative that can be put in place quickly, the country cannot tolerate the chaos," says a senior Kurdish official.
But even though Maliki is likely to survive this increasingly bitter fight with the Kurds, he will not emerge unscathed.
"Kurds have made a judgment that he cannot be trusted and that's the worst part of this – it's not about the technicalities of oil law and this and that – this issue of trust was shattered," says the Kurdish official who, like all of the people interviewed for this story, would speak only on condition of anonymity due to the sensitivity of the matter.
"A lot of the issues that are involved … are characteristic of nation building and characteristic of competition for power and resources in nascent systems and that's what we are witnessing," says a senior US official. "I think relations obviously have deteriorated. What tangible impact that has on Maliki's ability to govern [is] hard to say but clearly this is problematic for him and for [the Kurds]."
Experts suggest that Iraq will weather many more of these internal power struggles as the US pulls back its military and political oversight in the years to come. They say the country could see pitched battles over resources, control over the military, and regional autonomy. The real challenge will be trying to contain the fights to parliament and keep them from spreading into fighting on the ground.
---