Hospital's recovery signals rising well-being in Iraq
While conditions are improving at the Central Teaching Hospital for Children in Baghdad and elsewhere in Iraq, the country still faces vast humanitarian needs.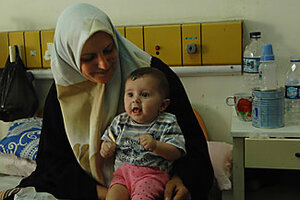 Scott Peterson/Getty images
His colleagues warned it was too soon to return. Iraq was still dangerous, they said, especially for a doctor whose driver was killed in a failed assassination attempt.
But Ghazwan al-Badawi could stay away no longer. His family is here and this is where his work was needed most. "Now, day by day, it is getting better," he says. "We've started to have optimism again. It is the beginning of a new hope."
Other doctors and health professionals who fled Iraq are slowly returning as violence declines, and quantities of medicine and equipment are available as never before. While Iraq's healthcare system is still plagued with problems that come from war, dictatorship, and years of sanctions, signs of recovery abound – and fill the halls of the hospital where Dr. Badawi now works.
The Central Teaching Hospital for Children is the largest pediatric hospital in Baghdad and has long been a barometer for Iraq's overall well-being – from the dark days of Saddam Hussein to sectarian violence during the war to the latest security gains.
But current progress is tentative, says Badawi, who remains torn by his decision. Optimism after Mr. Hussein's fall was buoyed by high hopes "of the US coming with all its facilities and equipment," says Badawi. "But we were wrong."
---