Bush's final Iraq visit marks gains, meets contempt
While President Bush traveled to Baghdad Sunday to hail progress, the war is far from over in places like Mosul where US and Iraqi forces still battle insurgents linked to Al Qaeda in Iraq.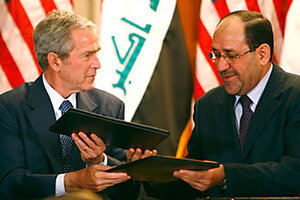 Thaier al-Sudan/Reuters
President Bush arrived in Iraq Sunday for one brief, final visit to the country his administration has irreparably changed.
"There is still more work to be done," Mr. Bush said after his meeting with Iraqi Prime Minister Nouri al-Maliki. "The war is not over," he said, adding that "it is decisively on its way to being won."
Bush's trip to Baghdad marks the fast-approaching end to his involvement in the war he launched in March 2003 – a war many Iraqis saw as Bush's personal vendetta against Saddam Hussein. Although grateful to the US for toppling Mr. Hussein, many Iraqis view the aftermath with scorn and dismiss the notion that the US came here in the name of democracy or to make the region safer.
That anger was on full display at Bush's press conference with Mr. Maliki. An Iraqi reporter hurled both of his shoes at the president's head – narrowly missing Bush – and shouted, "This is a farewell kiss, dog."
The act is an Arab symbol of contempt, much like when Iraqis hit Hussein's statue with their shoes after the US invasion.
---
Follow Stories Like This
Get the Monitor stories you care about delivered to your inbox.