In new ads, Palestinians try to sway Israeli public on peace plan
On Hebrew language billboards and newspaper ads, the Palestinian Authority promotes an Arab peace initiative to skeptical Israelis.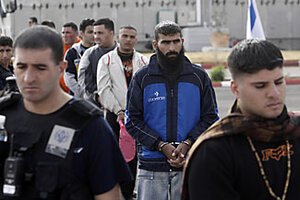 Ronen Zvulun/reuters
Tel Aviv; and Ramallah, West Bank
Along Route 2, which follows the Mediterranean coastline, motorists are seeing an unusual sight: a Palestinian flag next to an Israeli one.
Below the image appearing on billboards is a message in Hebrew: There's a viable peace initiative on offer from Arab states. Reach a land-for-peace deal with Palestinians, and we will recognize you. The signature? The flags of 57 Arab and Muslim states – all except Iran.
The unprecedented ad campaign is the initiative of none other than the Palestinian Authority (PA). Late last month, the PA also ran full-page ads with the same message in Israeli papers.
The campaign represents an interesting role reversal. A decade ago, it was the Israeli government that was trying to sell its own skeptical electorate on peace, while the late Yasser Arafat had trouble getting Hamas and other rejectionist groups to sign on to the Oslo deal that he had reached with Israel five years earlier.
Today, the political futures of both peoples are at a critical juncture. PA President Mahmoud Abbas's tenure legally expires Jan. 9, and Israel faces national elections on Feb. 10. That makes it all the more opportune a time to try to win hearts and minds.
---