Mideast awaits new leaders, direction in 2009
Former President Jimmy Carter urged new focus on Israeli-Palestinian peace last week. But other accords may be more feasible.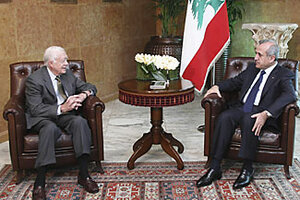 Mohamed Azakir/Reuters
Exhausted by years of conflict and political stagnation, the peoples of the Middle East are looking to President-elect Barack Obama to help shape a new direction for the region after he assumes office next month.
But it is a former US president that is pushing once more for a renewed effort to resolve the festering Israeli-Palestinian conflict that many believe lies at the heart of the region's woes.
On a recent tour of Lebanon and Syria, former President Jimmy Carter urged a back-to-basics approach to one of the world's most intractable political predicaments.
"I don't consider myself an oracle or authority on the subject… but the minimum message I bring is that peace is necessary not only for Israelis and Palestinians but the entire region and indeed the entire world," he told an audience at the American University of Beirut last week.
Mr. Carter has remained deeply involved in Israeli-Palestinian peace efforts since helming the Camp David peace talks in 1978 during his presidency which led to a peace agreement between Israel and Egypt.
Despite the optimism engendered by those breakthrough talks 30 years ago, the Israeli-Palestinian track has grown increasingly complicated and bitter.
---