Israelis, Gazans brace for cease-fire's end
A six-month truce with Hamas ends Friday. Violence between Israel and Gaza militants has flared in recent days.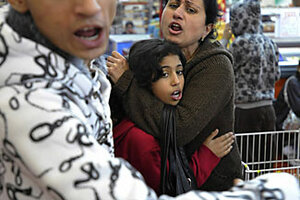 Amir Cohen/Reuters
The calm is gone. That much was clear as the six-month-old cease-fire between Israel and Hamas hurtled toward its expiration date Friday and a new burst of Kassam rockets crashed down on Sderot, the southern city hit more often than any other in Israel.
"We are very scared about what will happen tomorrow," says David Yehudaie, looking out from his pet store Thursday at the site of a rocket attack the day before. The Kasssam fired from Gaza landed on a parked car just 50 yards from his store.
At the time, Mr. Yehudaie was feeding the fish and getting ready to say good night to the birds. With the shudder and shattering of the rocket landing, the birds went wild with fear.
"After a few minutes, the animals calm down," he explains. "With their brains, they have a very short-term memory."
But Israelis do not. And the memories are even sharper in Sderot – a city that, until the truce began six months ago, coped with nearly daily rocket attacks.
The very fact that the agreement between Israel and Hamas is officially called a "calm" in both languages – regia in Hebrew and tahdiyeh in Arabic – is a window on how both Israelis and Palestinians saw the deal as temporary, with neither side thinking it would be long-lasting.
That said, the truce did begin with some hopes that it would ease attacks on Israel and reduce the deadly raids by the Israeli army in the Gaza Strip.
But now Hamas says it doesn't see many benefits to extending the cease-fire. For one, they see Israel's continuing closure of the coastal strip controlled by the Islamist militants as a life-threatening siege on its people. Second, the Israeli Defense Forces (IDF) has continued striking Palestinian militants in the West Bank.
---