In South Lebanon, UN peacekeepers hunt for goodwill
In addition to monitoring the volatile border region between Israel and Lebanon, the peacekeepers build roads and teach foreign languages to locals.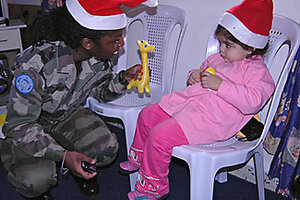 Nicholas Blanford
Ten toddlers at a nursery school in this southern Lebanon village had a surprise visit from an unlikely version of Santa Claus this week when French United Nations soldiers dressed up to hand out Christmas gifts.
The visit to the Ain Ibl nursery is just one of the dozens of humanitarian activities undertaken daily by the UN mission known as UNIFIL in south Lebanon and a key factor in building goodwill for the 13,300-strong peacekeeping force in a volatile part of the Middle East.
"We wanted to bring a happy Christmas to the children in our area of responsibility," says Col. Nicolas Casanova, the commander of UNIFIL's French contingent. "Each soldier donated money to buy a gift for a child."
In the era of the war on terrorism and the campaigns in Iraq and Afghanistan, winning hearts and minds is considered as important as defeating combatants. UNIFIL, which arrived in Lebanon in 1978 after Israel's first invasion here, learned that long ago.
---