Calm brings record tourism to Bethlehem
An estimated 1.3 million people visited the West Bank this year, boosting the troubled economy.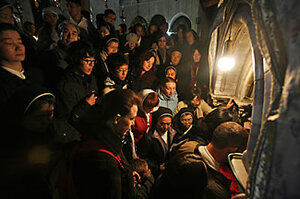 Muhammed Muheisen/AP
At the height of the Palestinian uprising six years ago, the only traffic in this holy city, believed to be Jesus' birthplace, were Israeli military jeeps enforcing curfew.
Now, with record bus loads of Christian pilgrims filing through the Church of the Nativity and sleeping at local hotels, Bethlehem is abuzz.
The revival of tourism in the West Bank is one of the few bright spots in the Palestinian economy, which was supposed to get a big boost from the Bush administration at its Middle East peace conference in the fall of 2007 in Annapolis, Md.
"After the Annapolis conference ... there was a relative relief in the political situation," says Palestinian tourism minister Khouloud Daibes-Abu Dayyeh. "The pictures coming through the media showed at least part of Palestine as more safe and ... ready to receive tourists," he says.
While tourists must pass through the Israeli security barrier at the main entrance to Bethlehem, West Bank visitors have doubled over the past year. The 1.3 million tourists expected for 2008 surpasses the pre-uprising peak nine years ago. The surge is filling hotels to capacity – an encouraging sign as chains Mövenpick and Days Inn pursue plans to open in Ramallah.
Tourism contributed to a modest 2 percent growth rate in the overall Palestinian economy this year – a figure that would have been twice as high if it weren't for the flagging economy in the Gaza Strip, which has been under a yearlong Israeli blockade.
---