Gazan civilians increasingly at risk in assault on Hamas
Israel may consider a 48-hour cease-fire with Hamas, but threatened a ground invasion if militant rockets didn't stop during a temporary truce.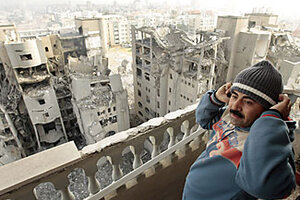 Mohammed Salem/Reuters
On the fourth day of airstrikes in Gaza Tuesday, one of Israel's many targets was a Hamas military commander's home within the teeming Jabaliya refugee camp. He wasn't there, but seven civilians died as a result of that attack.
Until now Israel has targeted mainly Hamas offices, ministries, and centers of power in a bid to limit collateral damage while still crippling the Islamists' ability to fire rockets across the border. But as the conflict stretches on and Israeli warplanes and drones seek out Hamas commanders and other militant leaders hiding in neighborhoods in the densely packed coastal strip, it will be harder to contain civilian deaths.
So far Israel has been relatively successful at zeroing in on targets and avoiding civilian casualties. It has run 400 sorties since the start of the conflict Saturday in an enclave about twice the size of Washington, D.C. Of the more than 370 Palestinians killed, at least 64 have been civilians, according to the United Nations.
Israeli military tacticians are all too aware that if civilian casualties climb too high, international pressure can end an otherwise carefully executed attack. It happened in the 2006 Lebanon war when Israel's allies could no longer tolerate the loss of innocent life. It's a metric that is callous yet at the forefront of modern Middle Eastern warfare.
---