How Israel, Hamas define victory in Gaza
Israel has hit at hundreds of targets across Gaza but has not seriously damaged Hamas's fighting force, which continued to fire rockets on southern Israel on Sunday.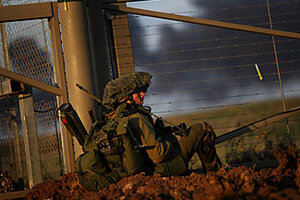 Uriel Sinai/Getty Images
Escalating a week-long assault against Hamas, Israel invaded Gaza over the weekend to stop the Islamist militants who continue to launch cross-border rocket attacks.
But what victory means for each side still remains vague. The Israeli military says the ground offensive is aimed at eliminating militant rocket-launching sites, destroying weapon caches, and pursuing fighters hiding in the crowded coastal strip.
Will it be satisfied if the militants stop firing rockets or if it destroys the hundreds of tunnels to Egypt that make up Hamas's supply line? Some experts say Israel wants to force a more extensive cease-fire with Hamas, compel the creation of an international peacekeeping force in the coastal strip, or destroy the Islamist group altogether.
For Hamas, survival might be victory. It will be lauded across the Arab world if it can hold out against the region's strongest military.
"One of the most important things in this conflict between state and nonstate actors is what is the meaning of victory?" says Eitan Azani, a former Israeli Defense Forces colonel and a deputy director at the Institute for Counter Terrorism at the Interdisciplinary Center in Herzliya. "A lot of people from [Hamas] dying? A collapse? Or most of the operational capability destroyed? This is up for debate. We are in a very complicated situation."
---